AI for creating a sustainable and healthy future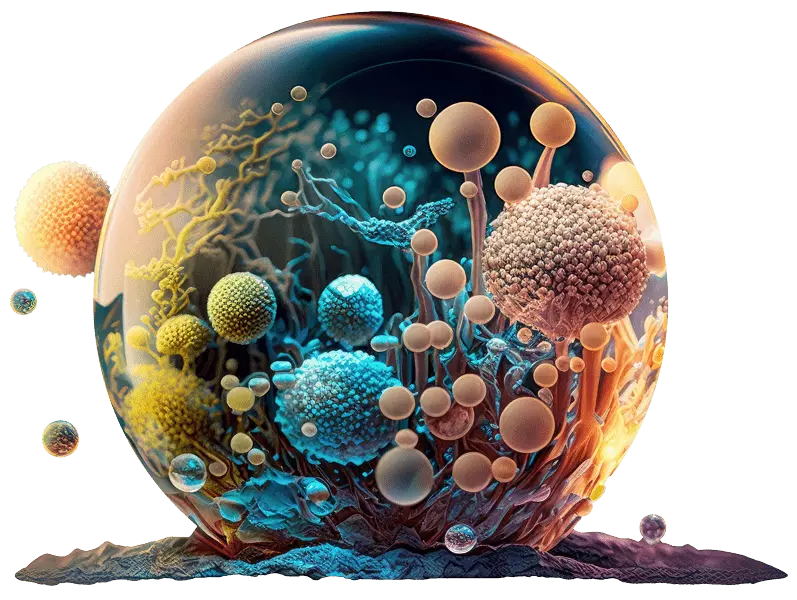 We accelerate science and innovation for nutrition and Ingredient industries by embedding AI in core processes – from R&D through manufacturing and commercialization. We are helping feed our planet, animals, plants & people better for a sustainable and healthier future for all.
Next-gen, AI-developed foods are here
Consumers are demanding nutritional value, great taste, and health benefits from their favorite brands. Accelerate the discovery & commercialization of bioactives to swiftly respond to trends. Become the No Compromise solution Innovator today. Innovate & grow, faster & at lower cost than your competitors now.
A universe of health-promoting ingredients unlocked by AI
Discover the best performing bioactive molecules to deliver category leading growth with science-backed health claims targeting the right consumers.
Enhance product performance & function
Develop the next generation of functional foods, supplements and snacks by placing AI at the center of your development and innovation. Enhance manufacturing processes and identify optimal formulations that deliver fastest and lowest cost time to market while delighting your consumers.
Reinventing the future of wellness and health
Elevate human and pet health through science-based nutraceuticals. Discover lesser known, more effective molecules with health promoting impact by leveraging PIPA's AI for bioactive discovery, ingredient profiling and best performing formulations.
Discovery at the speed of AI
Train AI on public and proprietary clinical and scientific data to build disease predictors, identify biomarkers and de-risk clinical trials through cohort identification.
We work with scientists, innovators and visionaries to transform R&D by multiples, not mere percentages.
From bioactive discovery for functional foods to disease prediction and clinical trials, we enhance business resilience and competitiveness through AI.
PIPA Data and Analytics Platform (PDAP)
Our cloud framework powering our AI platforms, ETLs, Machine Learning jobs and demanding data workflows. PDAP supports multi-layered multi-tenancy while guaranteeing data isolation and security.
AI co-pilots for food science & innovation
Our AI platforms enable R&D teams to uncover insights and evidence 10,000 times faster than humans and with unmatched accuracy when compared to assay-driven methods.
Business process optimization
Collaborate with our teams to increase operational gains through manufacturing optimization (fermentation, extrusion) and streamlining of your supply chain, from processing and storage, through distribution.
Bring AI to the center of your business for
100x faster‑than‑standard R&D cycles
.
Our recent announcements, blog posts and press coverage
John Melo as our Chief Executive Officer! PIPA is entering a new chapter of impact and accelerated growth. Read more.
We're excited to announce the successful completion of our first AI-powered research project with Meati Foods which aimed at identifying health benefits.
"People and companies are supercharged to bring consumers new foods that have great taste and solid nutrition while sourcing and supporting sustainability where they can." said our Chief Commercial Officer, Eric Hamborg, after participating at IFT FIRST 2023, in Chicago.
Unlock a faster path to innovation by leveraging our AI platforms and tapping into the expertise of our top-class talent.